2012 Honda Pilot Reviews and Ratings
Utility 4D Touring 4WD
When shopping for a car, how important is vehicle safety?
Consumer Reviews
Own this vehicle? How would you rate it?
Please complete all star ratings before submitting.
Type your review and click the Submit button
to post your comments
600 of 600 character remain
Thank you for submitting your review of the 2012 Honda Pilot
Customer Review
Be the first to review this 2012 Honda Pilot.
View All Car Reviews
Expert Reviews ( 2 )
2012 Honda Pilot
New Car Test Drive
Introduction
The Honda Pilot is a sturdy, reliable SUV with ample space, convenient features and the ability to handle whatever weather Mother Nature might have in store.

New for the 2012 Honda Pilot is a refreshed exterior including an updated front fascia, grille and headlights. Inside, the 2012 Pilot gets a redesigned center stack and instrument cluster, updated navigation system and better interior materials. Added sound proofing makes for better noise insulation, and several features that were previously options now come standard on the 2012 Pilot.

Also notable is a slight improvement in fuel economy for the 2012 Honda Pilot. Aerodynamic and powertrain adjustments to the 2012 Pilot eek out an extra 1 mile per gallon in the city and 2 mpg in both freeway and combined driving.

The Honda Pilot seats eight, and it can easily handle four adults and four children. It offers cupholders and storage cubbies galore for front, middle and rear-seat passengers. When hauling cargo, the Pilot has enough space to carry a 4x8-foot sheet of building material flat inside.

Pilot is available with either front-wheel drive or all-wheel drive. The all-wheel drive version offers a 4,500-pound towing capacity and the ability to handle inclement weather, but the car-like crossover construction of the Pilot makes it better suited to on-road activities than slogging though mud or tackling rocky terrain.

Compared to others in its class, the 2012 Honda Pilot is a decent midsize crossover sport-utility. It keeps pace in terms of storage space and fuel economy, but offers humdrum performance, most notably in its somewhat sluggish acceleration and unimpressive stopping distances. Those who prefer a sportier, more responsive crossover should consider the Mazda CX-9. Other alternatives include the Ford Explorer and Dodge Durango. If you don't need towing capacity, the Ford Flex offers similar space with much more panache.
Model Lineup
The 2012 Honda Pilot comes in four trim levels: LX, EX, EX-L and Touring. Each is offered with front-wheel drive or all-wheel drive (4WD). Every trim level comes with the same powertrain: A 3.5-liter, 24-valve, single overhead cam V6 engine that makes 250 horsepower and 253 pound-feet of torque, paired to a 5-speed automatic transmission. All other mechanical and safety components and systems are identical across the range.

Pilot LX ($28,470) comes standard with 17-inch steel wheels, a trailer hitch, keyless entry, rear privacy glass, automatic headlights, a tilt-and-telescoping steering wheel, cruise control, front and rear air-conditioning, 60/40-split second- and third-row seats and a seven-speaker audio system with CD/MP3 player and auxiliary jack.

Pilot EX ($31,320) bumps the wheels up to 18-inch alloys and adds painted body molding, foglights, heated exterior mirrors on AWD versions, an eight-way power driver seat, tri-zone automatic climate control, steering-wheel audio controls, Bluetooth connectivity and a 2GB hard drive for digital music storage.

Pilot EX-L ($34,570) includes everything on the EX model plus power liftgate, rearview camera, sunroof, leather upholstery, heated front seats, a power passenger seat, comprehensive vehicle information display, an auto-dimming rearview mirror, satellite radio and an iPod/USB connector. Optional features include a voice-activated navigation system with 15GB hard drive for digital music and multi-angle rearview camera, as well as a rear-seat DVD entertainment system with wireless headsets.

Pilot Touring ($39,220) includes all features found on the EX-L plus parking sensors, roof rails, driver memory functions and an upgraded, 10-speaker sound system.

Safety equipment on all Pilots includes front and front side airbags, three-row side-curtain airbags, Vehicle Stability Assist (electronic stability control), four child-seat LATCH positions, active front head rests, and eight adjustable headrests and shoulder belts.
Walkaround
The design of the Honda Pilot is strictly utilitarian. Although the updated fascia, grille and headlights give the 2012 Pilot a more contemporary look, it's clear that this boxy crossover was strictly meant to be functional. Base LX models get black plastic side body moldings and door handles, while EX models and above get these in body color. Foglights and roof rails on upper trim levels add more functionality as well as a sportier look.

Panel crimps around the wheel openings aid the rugged look without adding width or bolt-on parts that might promote rust. The rear wiper parks off the hatch glass, allowing it to open separately. The hatch has a hefty pull handle with touch-point releases and is powered on the Touring model, and the bumper has a good cover so sloppy loading won't mar the paint.

All Pilots come with a Class III tow hitch and coolers required for towing; only a wiring pigtail will be needed from the dealer. The top tow rating is a respectable 4500 pounds on 4WD and a modest 2000 pounds on front-drive models.
Interior
Better-looking textures and materials flank the inside of the 2012 Honda Pilot compared to its predecessor. The revised instrument cluster is attractive and easy to read, with a clear background and silver-toned rings. Although the new center stack is less busy than the previous model, it still contains a mind-numbing 45 buttons, including those for climate control, audio, 4WD and navigation. The large, iDrive-like button for the navigation and entertainment system is placed near the bottom, which takes some getting used to. Still, it's more user-friendly than the last version.

Storage abounds in the 2012 Honda Pilot. A large, deep center console holds plenty of gear, but its cavernous dimensions can gobble up small items and make them tough to find. A three-compartment storage shelf with rubber lining above the glove box gives passengers a slip-proof space for phones and keys.

Leather upholstery on the Touring model is adequate, but not luxe. Front seats offer good support and the built-in heaters get toasty quickly. Front head- and legroom is ample, and the power seats and tilt/telescoping steering wheel has a far enough range of adjustment for drivers of practically any height.

You won't feel short-changed by the Pilot's second-row, 60/40 folding adjustable seats. Passengers get big cupholders back here, too, as well as storage pockets in the doors. Third row seating, which also splits 60/40, is easy to access and offers adequate space for its class, but only children or small adults would be truly comfortable. The seat cushions for the second and third rows are too low for tall passengers, however, forcing those with longer legs into a squatting, knees-up position. The larger Chevy Traverse and Ford Flex are much more comfortable in this regard.

Third-row passengers get extendable headrests, which significantly reduce driver visibility out the back window but can be stowed in the back cushions when not being used.

With all seats in place, the Honda Pilot offers 18 cubic-feet of space, enough for about six standard-sized bags of groceries side-by-side. With the second- and third-row seats stowed, storage space maxes out at a respectable 87 cubic feet. Large and bulky items fit with relative ease thanks to the Pilot's boxy shape. The cargo area has as assortment of tie-down points and bag hooks, and the cargo floor, equipped with a net, can be flipped up and latched against the third-row seatback to create a basket/shelf capable of holding 22 pounds. There is also more storage below the cargo floor.

The cloth upholstery on LX and EX we found to be comfortable in temperature extremes. The cloth is a subdued design with just enough pattern to hide stains that become part and parcel of any eight-seat vehicle. Just like the priciest Pilot, door armrests have soft cushioned elbow pads and there's no cheap feel in frequently felt surfaces.
Driving Impressions
The Honda Pilot's practical image falls short when it comes to performance. There's not much oomph off the line, which we assume is in part to aid fuel economy numbers. Although rated at 17 mpg City and 24 mpg Highway by the federal government, our numbers according to the Pilot's on-board computer were far lower. After a week of driving a combination of city and highway roads in Southern California, our fuel economy was a disappointing 12.6 mpg, and 12.2 mpg while in stop-and-go Los Angeles traffic.

The Pilot drives as big as it looks, and we don't mean that in a good way. It's cumbersome around corners and in tight spaces, especially noticeable in L.A.'s crowded parking lots. Ride quality is compliant and comfortable, and the Pilot floats over bumps and chewed-up city roads with ease. Pilot's suspension is tuned softer than that of the GMC Acadia and Buick Enclave yet it leans less in corners than the Toyota Highlander. The Acadia may enjoy a slight advantage in steering feel.

The 3.5-liter V6 takes on a characteristic Honda growl when you push it and you'll need to be towing or accelerating uphill on an on-ramp to require such grunt. For the most part the engine is in the background, never silenced, never rough and never annoying. It uses Honda's Variable Cylinder Management (VCM) to switch off two or three of its six cylinders to save fuel; the ECO light on the dash shows when you are getting best economy and does not necessarily mean the Pilot is running on only three or four cylinders.

The Pilot shifter offers an OD Off switch which locks out the top two gears, so if you want fourth to control speed on long hill descents or winding roads you're out of luck. The Toyota Highlander and Mazda CX-9 perform better in these respects.

Braking performance felt adequate to us, although some industry tests indicate the 2012 Honda Pilot requires much more stopping distance than others in its class. Electronic braking aids, including brake assist, come standard.
Summary
The Honda Pilot is a reliable midsize crossover with available all-wheel drive and ample space for cargo and people. For 2012, Pilot gets revised styling inside and out, and it's quieter.

NewCarTestDrive.com correspondent Laura Burstein reported from Los Angeles; with Greg Whale reporting from Riverside, California.
Model as tested
Honda Pilot Touring 4WD with Navigation/Rear Entertainment ($40,820)
Basic Warranty
3 years/36,000 miles
Assembled in
Lincoln, Alabama
Destination charge
810
Gas guzzler tax
N/A
Base Price
28320
Price as tested
41630
Options as tested
none
Model Line Overview
Model lineup
Honda Pilot 2WD: LX ($28,470); EX ($31,320); EX-L ($31,314) EX-L w/Rear Entertainment ($32,759); EX-L w/ Navigation ($36,570); Touring ($39,220); 4WD: LX ($30,070); EX ($32,920), EX-L ($36,170); EX-L w/Rear Entertainment ($37,770); EX-L w/Navigation ($38,170); Touring ($40,820)
Safety equipment (standard)
front and front side airbags, three-row side-curtain airbags, Vehicle Stability Assist (electronic stability control), four child-seat LATCH positions, active front head rests, eight adjustable headrests and shoulder belts
Safety equipment (optional)
N/A
Engines
3.5-liter sohc 24-valve V6
Transmissions
5-speed automatic
Specifications as Tested
leather upholstery, tri-zone climate control, power front seats, heated front seats, tilt/telescoping steering wheel, heated mirrors, fog lights, front and rear parking sensors, rearview camera, power moonroof, power tailgate, auto-dimming rearview mirror, cruise control, 115-Volt power outlet, trip computer, 60/40 folding second and third rows, navigation system with voice recognition, Bluetooth connectivity, DVD rear entertainment system with 9-inch display and wireless headsets, 10-speaker audio system with satellite radio, CD player, USB connection and hard disk drive
Engine & Transmission
Engine
3.5-liter sohc 24-valve V6
Drivetrain type
four-wheel drive
Horsepower (hp @ rpm)
250 @ 5700
Transmission
EPA fuel economy, city/hwy
17/24
Torque (lb.-ft. @ rpm)
N/A
Suspension
Brakes, front/rear
vented disc/solid disc with ABS, EBD, Brake Assist
Suspension, front
independent, MacPherson strut, stabilizer bar
Tires
P235/60R18
Suspension, rear
independent, multi-link, stabilizer bar
Accomodations
Seating capacity
8
Head/hip/leg room, middle
39.8/56.9/38.5
Head/hip/leg room, front
39.3/58.6/41.4
Head/hip/leg room, rear
38.2/48.4/32.1
Measurements
Fuel capacity
N/A
Trunk volume
18.0
Wheelbase
109.2
Length/width/height
191.4/78.5/72.4
Turning circle
37.9
Payload
N/A
Towing capacity
4500
Track, front/rear
67.7/67.5
Ground clearance
8.0
Curb weight
4608
2012 Honda Pilot
NADAguides Test Drive Review
The
2012 Honda Pilot
4WD Grand Touring is a class leading SUV powered by a 3.5-liter SOHC 24-valve i-VTEC V6 Engine that produces 250 hp and 253 lb-ft of torque. A 5-speed automatic transmission makes for smooth shifting and instantaneous power. Braking is responsive and the vehicle feels nimble due to its light curbside weight, which coincidentally adds to sway discouraging one from taking turns too fast or hard. Fuel economy is comparable to others in its class falling within an EPA estimated range of 17 mpg city to 24 mpg highway.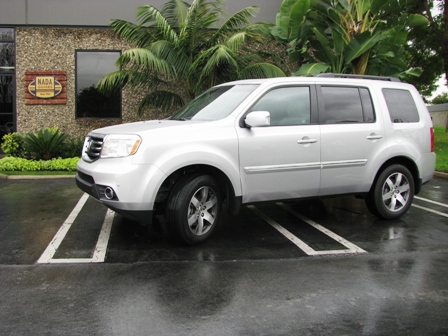 Sporty and stylish lines grant the Pilot a great looking body. Honda strikes the perfect balance between the strength of a SUV and sleekness of a crossover, avoiding a bulky or overpowering appearance. A dash of elegance is added to the vehicle with chrome side moldings, chrome exhaust finishes, and rear privacy glass. Available colors consist of seven different shades; Alabaster Silver Metallic, Bali Blue Pearl, Crystal Black Pearl, Dark Amber Metallic, Dark Cherry Pearl II, Polished Metal Metallic, and White Diamond Pearl.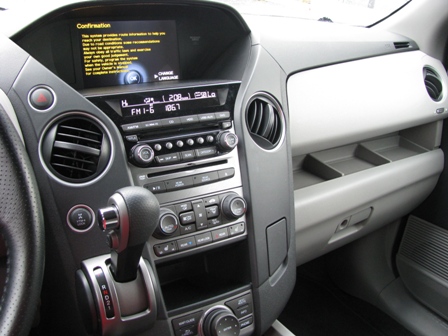 Front MacPherson Strut Suspension paired with rear multi-link suspension grants the driver a smooth and comfortable ride. Ride quality is not the only feature that might surprise SUV drivers; the Pilot also sports a small turning radius enabling superior maneuverability. Easy handling and minimal blind spots, assisted by the rear back-up camera, make parallel parking an effortless feat.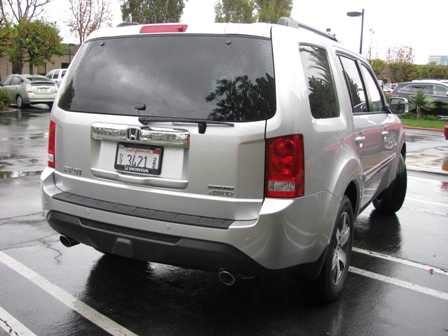 The interior takes cues from the exterior of the vehicle, touting a well organized, aesthetically pleasing layout. The 38.5" of legroom makes for spacious rear seating that could comfortably fit multiple adults, making the backseat of the Pilot comparable to other cars in the mid-size SUV segment. Additional factors that increase comfort are adjustable 10-way power seats, leather upholstery, and wide seats (58.6") which makes the interior comfortable for passengers of all sizes. Trunk space is adequate with plenty of room for travel or running everyday errands.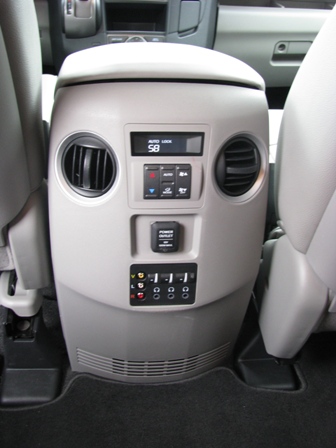 Driver comfort is optimal thanks to a tilt/telescope steering wheel and a shifter placed on the dash (to the right of the steering wheel) making for easy access. All controls seem to have well thought out placement allowing for an uncluttered console. Although the steering wheel and interior upholstery are made of leather materials the dashboard material could use some upgrading, considering the quality of material used seemed susceptible to wear and tear.
All media features are intuitive and sound quality is nothing short of amazing however problems might arise with the navigation system; street recognition can be inconsistent leading to utilization of a cell phone in lieu of the onboard navigation. Bluetooth set up, on the hand is a breeze and flawlessly connects upon re-entry. Other premium features include tri-zone climate control, second row sunshades, wide span backup camera, rear seat DVD entertainment system with headphones, front heated seats with high/low adjustments, and a power tailgate which makes trunk access a breeze.
Overall the 2012 Honda Pilot 4WD Grand Touring is an impressive mid-size SUV with attractive styling and appeasing functionality. The ride quality alone is enough to make you want to drive this car over and over. Affordability is factored in the base price of the vehicle (starting MSRP of $28,470) however the price can quickly rise when upgrading to the higher trim levels, such as the 4WD Touring (starting MSRP of $40,820).
Search Local Cars for Sale
Vehicle History Report
Get answers to buy with confidence
Check for accidents
Confirm the reported mileage
Purchase multiple reports and save
Car Buying and Selling Resources