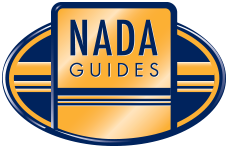 NADAguides Price Report
9/2/2015
2013 Hyundai Veloster
3dr Cpe Man w/Gray Int
Expert Reviews
Read unbiased reviews by auto experts and the NADAguides Test Drive Team
Print
Three-door coupe adds sporty turbo option.

BANNING, Calif. -- With only thin air occupying space beyond a guard rail until the...
MSRP - MSRP is the base Manufacturer's Suggested Retail Price at the time of introduction, including standard equipment only and excludes taxes, transportation and destination.

Invoice - Invoice Price|The dealership's cost for a vehicle from the manufacturer including holdback and advertising costs. Invoice price does not include dealer installed equipment and destination charges.
© Copyright 2015 National Appraisal Guides, Inc., All Rights Reserved. National Appraisal Guides, Inc. is a strategic ally of NADA Services Corporation. © NADASC 2015, All Rights Reserved. NADASC Valuation Data is used under license from NADASC.