2012 Kawasaki KLX250TCF KLX 250S Options, Equipment, and Prices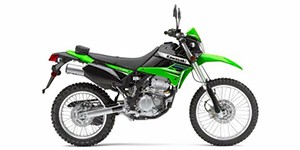 Select 2012 Kawasaki KLX250TCF KLX 250S Options
Focused on off-road, two-wheeled riding, the 2012 Kawasaki KLX™ line-up can accommodate a wide skill level of riders. Defined by the KLX110, KLX140 and KLX250S trim level, the 2012 Kawasaki KLX™ off-road motorcycles provides a healthy progression for developing experience. Serving as a low-cost introduction to off-road motor biking, the 2012 Kawasaki KLX110 is a Lime Green motorcycle created for children. Powered by a 111 cc single-cylinder engine, an adjustable throttle limiter is equipped on the 2012 Kawasaki KLX110 in order to allow parents to regulate the amount of power a youth rider receives. While the 2012 Kawasaki KLX110 offers 4.2 inches of wheel travel, a taller-seated KLX110L model allows up to 5.5 inches of movement at the front wheel. Receiving a 144 cc single-cylinder engine, the 2012 Kawasaki KLX140 and KLX140L models add full disc braking. Wheel travel for the 2012 Kawasaki KLX140 is adventurously set at 7.1 inches. Designated as a dual-purpose motorcycle, the 2012 Kawasaki KLX250S provides impressive off-road prowess in addition to decent road holding abilities. The 249 cc liquid-cooled engine of the 2012 Kawasaki KLX250S is mated to a six-speed gearbox for smooth power delivery. The 2012 Kawasaki KLX250S features a long travel suspension system with 16-way compression and damping adjustment.
Read more
Read less
Note:
VINTAGE - 1949 - 1962 Due to the rarity of these years and models of Kawasaki, pricing data is still being collected.

Read more
Read less
There are no options available for this vehicle.