2012 Kawasaki KSF90ACF KFX 90 Options, Equipment, and Prices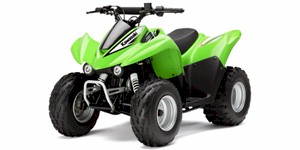 Select 2012 Kawasaki KSF90ACF KFX 90 Options
A small youth-oriented ATV, the 2012 Kawasaki KFX® provides a many features commonly associated with larger vehicles. Built on a double cradle steel frame, the Lime Green colored 2012 Kawasaki KFX® is styled like a sport utility ATV. Equipped with a front and rear suspension as well as a rear disc brake, the 2012 Kawasaki KFX90 model delivers a lot to younger riders 12 years and older. Propelling the 262-pound, youth-oriented ATV is an air-cooled four-stroke engine. A single-cylinder 89 cc displacement engine, the 2012 Kawasaki KFX90's powerplant is easy to start and maintain. Several features including a keyed ignition, throttle limiting screw and a collar on the continuously variable transmission enable parental control of the 2012 Kawasaki KFX90.
Read more
Read less
Note:
VINTAGE - 1949 - 1962 Due to the rarity of these years and models of Kawasaki, pricing data is still being collected.

Read more
Read less
There are no options available for this vehicle.