Your Guide to Towing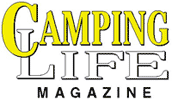 Towing your travel trailer to a campground for a weekend, or a week of vacation, can be easier than you think once you've read Camping Life's "Your Guide To Towing." This illustrated guide to safe and easy towing is filled with tips and advice from the experts at Camping Life Magazine. You'll learn about how to choose an ideal tow vehicle, learn effective driving techniques with a trailer in tow, and find out about the towing equipment you really need, all in a step-by-step format that's easy to understand. You can download just the chapters that you need or the entire guide by clicking on the links below.
In order to view the Towing Guide, you will require a PDF reader.